With such mild winters, it's no surprise that residents of Austin and the surrounding areas like to spend a lot of time outdoors. If your patio is in need of repair, or you're just looking for a new design, SUNDEK of Austin can help. We have been resurfacing patios at residences and commercial spaces for more than 30 years.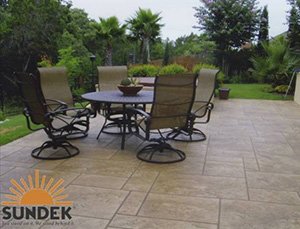 See more pictures of patios here
What does it mean to resurface a patio?
When a patio is resurfaced, a coating is applied to the top of your existing concrete surface. The coating is then customized with the look you want. Resurfacing gives you the ability to create a completely new look without having to demolish your existing surface (it's a lot cleaner and less expensive than tearing out existing concrete).
My patio is damaged. Can it still be resurfaced?
Yes! We can apply coatings over existing concrete that is cracked, spalling, flaking, faded, or damaged in other ways. Our experts will also determine what's causing the issue and offer advice on how to prevent future damage.
What are my design options?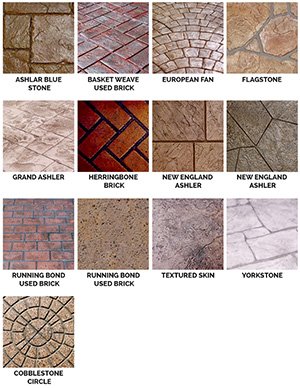 The options are limitless when it comes to designing your patio with SUNDEK of Austin. There are many colors, textures, patterns, and aggregates to choose from, and SUNDEK can also create the look of various materials such as brick, cobblestone, limestone, and more (here are just some examples, but let us know if you have something else in mind).
If you have an idea for a custom design, contact us so we can talk about how we can make it happen for you!
Keep in mind that SUNDEK of Austin can work on just about any concrete surface. That means we can create a pathway, pool deck, or vertical surface that matches or coordinates with your patio.
Why choose concrete instead of pavers?
Creating the look of pavers look with a concrete coating rather than the actual materials is beneficial for several reasons. For example, unlike pavers, which can move and settle if they're not properly installed, concrete will remain in place for many years to come. Additionally, you don't have to go through the trouble of finding stones with symmetrical shapes and similar color tones to fit your patio space. It's also less expensive to create the look through a coating than to pay someone to hand-lay each piece.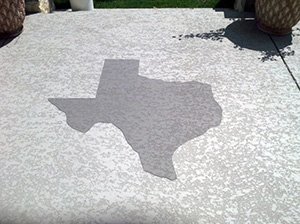 How long does it take to resurface a concrete patio?
The time it will take to complete your project depends on the size of the patio, the condition of your existing surface, and the type of design you choose. One thing is for sure: we work efficiently to make sure you can use your beautiful new patio as soon as possible.
What is maintenance like?
Maintaining a resurfaced SUNDEK patio is surprisingly simple. General maintenance includes sweeping, blowing, or hosing off dirt and other debris every few weeks. For spots or stains that are hard to remove, you can use a pressure washer or non-abrasive commercial cleaner. Learn more about cleaning SUNDEK surfaces.
When you discuss your project with us, we will also talk about sealers, which will protect your patio for years to come. Our high-quality sealers make surfaces non porous so they don't soak up things like oil or other spills. Sealers need to be reapplied every so often to properly protect your surface.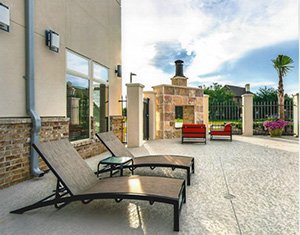 Contact us
Contact us to get started on your patio project!
Call us: (512) 928-8000
Email us: [email protected]
Or fill out the form on this page
We work in all the major cities in the area including Austin, Bastrop, Cedar Park, Dripping Springs, Fredericksburg, Georgetown, Lakeway, Marble Falls, Pflugerville, Round Rock, San Marcos, Spicewood, and the surrounding areas.