SUNDEK Installs Tables and Counters in a Pool at Kalahari Resort in Round Rock, TX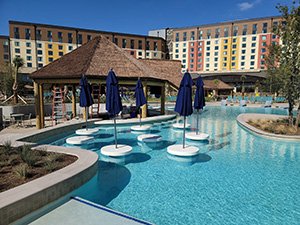 SUNDEK of Austin installed countertops at the swim-up bar and tabletops in the resort pool.
The pool at the new Kalahari Resort in Round Rock, Texas, offers more than just a spot to swim, play, and lounge. Guests can order food and dine at the poolside bar or one of the 16 tables that sit inside the pool. Resort owners contacted SUNDEK of Austin about constructing the tables and countertops.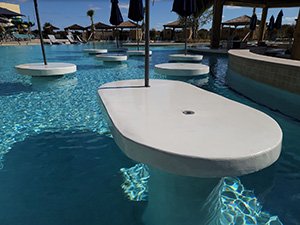 Tables and counters were installed after the pool was already filled with water.
Contact SUNDEK about your commercial project
Pouring the concrete for the tabletops and countertops and then coating them is a straightforward job for an experienced installer such as SUNDEK of Austin, but there was one catch on this project. Because of the schedule, they needed to install the pool tables after the pool was filled with water. Familiar with coming up with creative ways to address on-the-job challenges, the installation crew got to work. "Some of the crew worked on inflatable rafts," says Scott Hubbard, sales manager at SUNDEK of Austin. "Others completed the job in their bathing suits."
Related: Pool deck resurfacing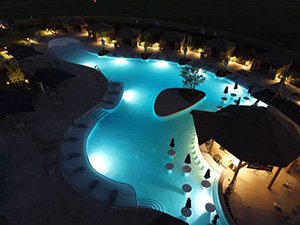 The pool is stunning at night, with the tabletops adding to the ambiance.
Despite the hurdle of having to work in water, the crews were able to get the job done well and on time—in just five working days. This included pouring the concrete, sanding and prepping the concrete, and coating the surface with SUNDEK's SunOne coating. The countertops and tabletops totaled an area of about 420 square feet.
SUNDEK of Austin chose SunOne for several reasons. First, it cures quickly—a necessary quality when installing tabletops in a pool. It also resists abrasion upon impact, which is essential for any object in or near a pool that's used by people of all ages. SunOne is also UV tolerant, so it won't fade or yellow from sun exposure.
Since the countertops and tabletops are coated with SunOne, they are also resistant to stains—making them easy to maintain. In fact, Hubbard notes that the resort maintenance staff will be able to clean these the same way they would clean any typical eating or drinking area. Even though the tabletops are in water, they won't need to be sanded down and resurfaced for at least 7 to 10 years after installation. All countertops and tabletops were finished with the Bone White color from SUNDEK's signature color collection, creating a sleek look to complement the resort's gorgeous pool area.
Contact us
for a free quote on your commercial project.