Which rooms are good for decorative concrete floors?
Wherever there's a viable surface, we can create a beautiful decorative concrete floor! We've worked on rooms ranging from kitchens to basements and everything in between. We also work in a variety of locations such as restaurants, airport hangars, and more.
Contact us about your concrete floor
Why resurface?
When you resurfacing concrete, you can get a coating applied to the top of your existing concrete surface (even if it's damaged). That means you don't have to tear anything out or start from scratch, saving you the mess and the headache. Your new surface will look brand new!
What is maintenance like?
Our clients are often surprised at how easy it is to maintain a floor with a SUNDEK coating. We always finish the job with a high-quality sealer, which protects it from flaking, general wear and tear, color fading, and more (learn more about the importance of sealers here).
General maintenance includes removing dust and other debris every few weeks by sweeping and mopping. For stubborn spots, you can use non-abrasive commercial cleaners. You can learn more about maintaining a SUNDEK surface, and you can also call us with any questions at (512) 928-8000.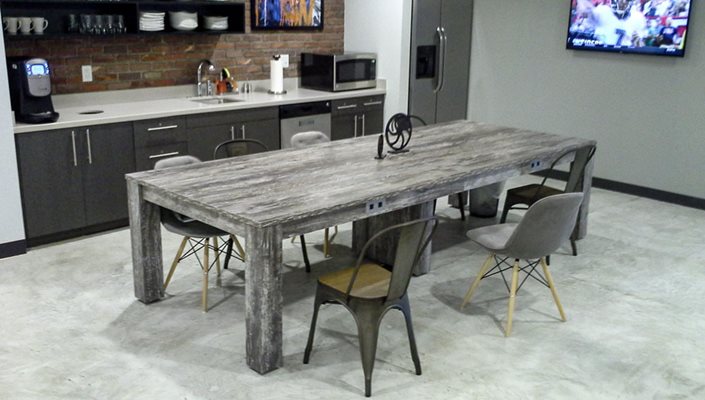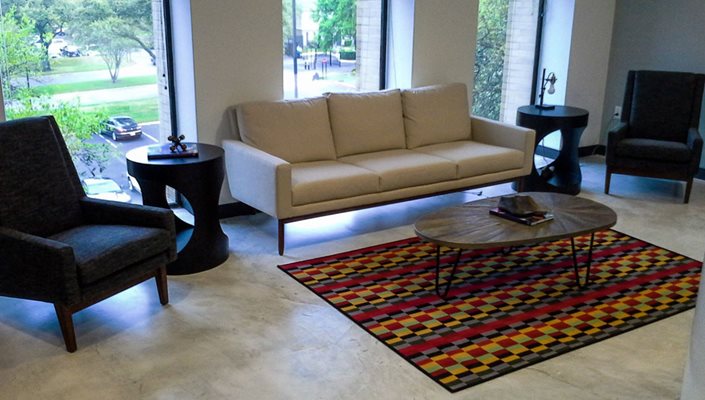 Why choose concrete or epoxy over other flooring materials
The benefits of concrete or epoxy rather than other commonly used flooring materials are numerous. For example, you won't have the hard-to-clean grout lines that you get with tile. Concrete and epoxy floors are also easy to keep clean, so they don't attract and house dust and other allergens like carpet tends to do. Unlike wood, concrete and epoxy floors can't get damaged from termites. And since are coatings are non-porous, it's easy to wipe up spills—preventing warping and other types of damage caused by water and moisture.
What are some design options for interior concrete floors?
The design options are endless. There are so many colors, textures, and patterns to choose from, so SUNDEK of Austin can create a design for your floor that fits the style of your home or business perfectly. We specialize in stained concrete and also stamped concrete. Take a look at pictures online and in magazines to see what you like. When we meet with you, we can discuss how to make your dream design a reality.
Featured Video
An Amenities Center Gets a Makeover
Joe Copeland of the Construction Managers of Austin talks with us about a project at Saddle Creek. A framer inadvertently damaged the floor, but we were able to repair the damage and make the floor look seamless. We also created a multicolored logo (a horse's head) on a splash pad at the amenities center.
More Videos
Contact us
Call us: (512) 928-8000
Email us: [email protected]
Or fill out the form on this page
We work in all the major cities in the area including Austin, Bastrop, Cedar Park, Dripping Springs, Georgetown, Lakeway, Marble Falls, Pflugerville, Round Rock, San Marcos, Spicewood, and the surrounding areas.
Free Analysis & Estimate