Sundek of Austin specializes in concrete overlay systems that are specifically designed to resurface or repair existing concrete surfaces. Sundek overlay systems create a brand new canvas for the concrete surface hiding stains, minor cracks, chips and variance in levels.
Each Sundek overlay system has been carefully manufactured to allow for a variety in thickness, texture and base color. Many different patterns, colors and looks can be achieved using Sundek concrete overlay systems both for interior or exterior applications.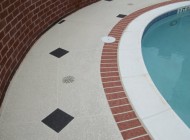 Classic Texture – The ORIGINAL Acrylic Spray Texture Overlay
"Transform your pool deck or any concrete surface with the original classic texture system."
SunStamp – Stamped Concrete Overlay
"Combining "Old World" elegance with today's technology, this custom stamped overlay is versatile yet durable."
SunStone – Architectural Limestone Coating
"The look of real stone is achieved using a limestone based cement product"
No other decorative concrete on the market today can compare to SunStone's authentic look and feel!
Tuscan – Hand Crafted Textured Overlay
"Achieve a European style at a fraction of the investment with this hand-crafted textured overlay system."
SunCanvas – MicroTopping Coating
"Sun Canvas provides a new concrete canvas for any artistic design."
SunSplash – Economical Acrylic Spray Texture Coating
"A versatile spray textured coating applied to existing vertical or horizontal walking surfaces offering an economical way to create a new surface."