Garage Floor Coatings
SUNDEK of Austin has a reputation for installing quality garage floors for both commercial properties and private residences in Austin and the surrounding areas.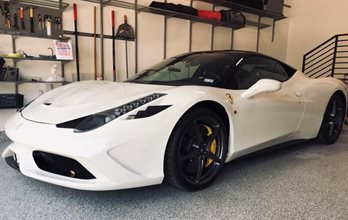 Why have SUNDEK of Austin install your garage floor
Our garage floor coatings are known for being durable, long-lasting, safe, and beautiful.
Durable & long lasting. The fact SUNDEK coatings are used in airport hangars is a great representation of how durable our materials are. Our heavy-duty epoxy and polyaspartic coatings can withstand the weight of heavy machinery, tools being dropped on it, oil spills, and more.
Easy to maintain. General maintenance includes sweeping or mopping as necessary. Spills ranging from water to oil can be easily wiped up and won't penetrate the surface.
Safe. Because we're well accustomed to installing coatings at locations like waterparks and other areas with pools and splash pads, we know how to make a surface that's not slippery when wet.
Beautiful. Our coatings are customizable. With our variety of colors, textures, and patterns, we can design a floor that meets your style—whether it's simple or elaborate.
Garage floors that need repair
Does your garage floor have cracks or other damage? No problem. In addition to resurfacing, we are experts in concrete repair. We can resolve your damage and determine what caused it and help you take steps to prevent it from happening again.
Get a free quote on your garage floor
Can I epoxy my garage floor myself?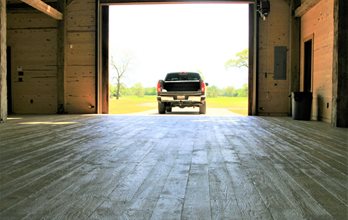 It's important to know that the quality of product you get in a DIY epoxy kit is not the same level of quality you get when working with a professional-grade epoxy product such as the options available with SUNDEK's line. Additionally, epoxying your garage floor requires painstaking attention at each step. We highly recommend hiring a professional such as SUNDEK of Austin to avoid common pitfalls such as bubbling or improper curing.
What products does SUNDEK of Austin use for garage floors?
We have several products to choose from depending on the type of job.
SunEpoxy 54 is good for residential garages or places where some light manufacturing work will occur.
SunEpoxy 100 has all the benefits of SunEpoxy 100, plus more. It's good for places with frequent heavy traffic or lots of manufacturing work.
SunOne is a polyaspartic coating. It provides a heavy-duty surface but can be completed quickly, so it's good for jobs that need to have a quick turnaround time.
Contact us
Call us: (512) 928-8000
Email us: [email protected]
Or fill out the form on this page
We work in all the major cities in the area including Austin, Bastrop, Cedar Park, Dripping Springs, Georgetown, Lakeway, Marble Falls, Pflugerville, Round Rock, San Marcos, Spicewood, and the surrounding areas.