Epoxy Garage Floor Coatings
If you're looking for a more durable solution for your garage floor, consider epoxy or polyaspartic coatings.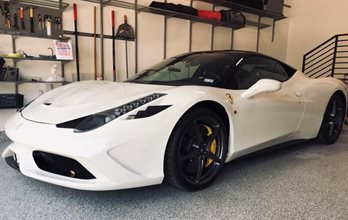 Why are epoxy and polyaspartic considered the best coatings for garage floors?
Epoxy and polyaspartic coatings are well known in the industry for being durable, long-lasting, safe, and beautiful.
Durable & long lasting. Heavy-duty epoxy and polyaspartic coatings can withstand the weight of heavy machinery, tools being dropped on it, oil spills, and more. When we're talking to customers about the durability of these products, we often share that SUNDEK epoxy products have been used in airport hangars.
Easy to maintain. General maintenance includes sweeping or mopping as necessary. Since the surface is non-porous, spills ranging from water to oil can be easily wiped up and won't penetrate the surface.
Safe. An experienced, reputable contractor will install epoxy and polyaspartic coatings with non-slip additives to make sure they're not slippery when wet. At SUNDEK of Austin, we're well accustomed to installing coatings at locations like waterparks and other areas with pools and splash pads, so we know how to make a surface that's not a slip hazard when wet.
Beautiful. Epoxy and polyaspartic coatings are customizable. There are a variety of colors, textures, and patterns to choose from, and an experienced contractor such as SUNDEK of Austin can design a floor that meets your style—whether it's simple or elaborate.
See pictures of garage floors.
Are epoxy or polyaspartic floors slippery?
For safety reasons, epoxy and polyaspartic floors should be installed with anti-slip additives so they aren't slippery when wet. At SUNDEK of Austin, safety is a priority, so we always make sure to include additives and texture the surface in a way that makes the surface slip resistant.
What's the difference between epoxy coatings and epoxy paint?
You've probably seen epoxy paint at the hardware store. If you want an epoxy floor for your garage, it's important to know that painting your floor with epoxy paint will not provide the same protection and overall quality that an epoxy coating will provide. Read about the differences between epoxy paint and epoxy coatings here.
Can a damaged floor get an epoxy or polyaspartic coatings?
If your garage floor is damaged, a contractor should assess your existing surface to determine if the concrete is still viable. As long as you don't have exceptional damage that diminishes the integrity of the surface (for example, significantly wide or deep cracks), the contractor should be able to repair and resurface it.
A reputable contractor such as SUNDEK of Austin who has experience with concrete repair is your best bet. In addition to being able to fix the damage before applying your new coating, they should be able to help you take steps to prevent the damge from happening again.
Here are some of the common ways garage floors become damaged:
Dusting: This happens when powder builds up on top of a hardened concrete slab, and it's often caused by a large amount of traffic. The problem can also be caused by concrete that wasn't mixed properly (when curing doesn't happen the way it's supposed to, it can lead to a soft concrete surface).
Spalling (also known as scaling): Spalling concrete is flaky and rough. Minor spalling causes cosmetic problems, while major spalling causes structural problems. If not addressed appropriately, slabs of concrete might separate from each other, creating a serious damage to your home or garage.
Cracking: Cracks range from minor, hairline fractures to wide and large problematic gaps. Cracks occur due to a variety of things, including the way the concrete was poured. For example, there could have been excess water in the concrete mix, it might have dried too rapidly, there could be lack of control joints when poured, and more.
Get a free quote on your garage floor
Can I epoxy my garage floor myself?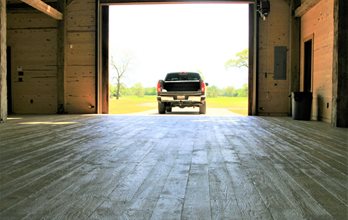 It's important to know that the quality of product you get in a DIY epoxy kit is not the same level of quality you get when working with a professional-grade epoxy product such as the options available with SUNDEK's line. Additionally, epoxying your garage floor requires painstaking attention at each step.
The surface preparation alone is a critical step. If your surface is not properly cleaned and stripped of contaminants, the quality of your epoxy or polyaspartic floor will be compromised. We highly recommend hiring a professional such as SUNDEK of Austin to avoid common pitfalls such as bubbling or improper curing.
What products does SUNDEK of Austin use for garage floors?
We have several products to choose from depending on the type of job.
Learn about the differences between epoxy and polyaspartic coatings.
Contact us
SUNDEK of Austin has a reputation for installing quality garage floors for both commercial properties and private residences in Austin and the surrounding areas.
Call us: (512) 928-8000
Email us: [email protected]
Or fill out the form on this page
We work in all the major cities in the area including Austin, Bastrop, Cedar Park, Dripping Springs, Georgetown, Lakeway, Marble Falls, Pflugerville, Round Rock, San Marcos, Spicewood, and the surrounding areas.