Pool Deck Beautification by SUNDEK of Austin Nestled in Texas Hill Country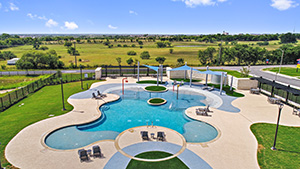 Westhaven's pool deck beautification area and integrated splash pad with SUNDEK's Classic Texture coating.
When Joe Copeland of Construction Managers of Austin (CMA) began working on a project with a pool deck and playscape at the Westhaven community, 30 minutes from Austin, he contacted Scott Hubbard of SUNDEK of Austin for his pool deck beautification needs. "When we're working on a project with a pool deck, we contact them," says Copeland, co-owner at CMA. "SUNDEK's products are durable. They last years and years before you have to touch them up."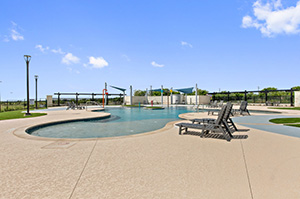 SUNDEK's Classic Texture coating is more comfortable to walk on and stays cooler than plain gray concrete.
Benkendorfer + Associates had designed the layout for Westhaven's gathering place: a resort-style pool and playscape connected by pathways. CMA, a construction management company who specializes in amenity centers and entry features, had the task of making it all come together. After the pool and structures were built and the concrete surfaces were poured, SUNDEK of Austin installed coatings on the pool deck and splash pad and applied color to the playscape.
Free Analysis & Estimate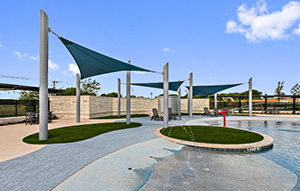 Classic Texture can be combined with other SUNDEK products. Here, in tandem with their SunDye product line, SUNDEK of Austin was able to create a multicolored pool deck.
On the 10,000-square-foot pool deck and integrated splash pad, SUNDEK applied their Classic Texture coating. Classic Texture is the first product SUNDEK developed in 1970, and it's renowned in the industry for setting a high bar for textured pool decks. In addition to being safer to walk on when wet than plain gray concrete, it's also cooler and more comfortable. That's why SUNDEK's Classic Texture is perfect for residential and community pools, even in areas of the country that experience high temperatures in the summer.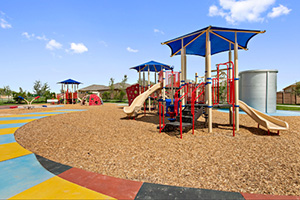 Benkendorfer + Associates designed the playscape with specific colors in mind. Using the SunDye Exterior product, SUNDEK of Austin was able to color match to meet the color requests for this project.
From the pool area, Westhaven residents and their guests can wander to the nearby playscape. For the concrete strips that line the play area, Benkendorfer + Associates designed them to have a striped pattern with specific alternating colors. To color the concrete, SUNDEK used their SunDye Exterior product—a translucent, UV-stable dye that's formulated to penetrate both indoor and outdoor concrete surfaces. Although it comes in standard colors, you can combine colors to create limitless options.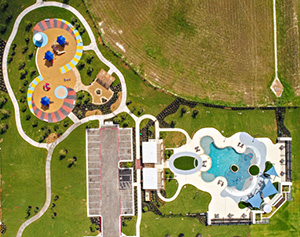 An aerial view of the playscape (left) and pool area (right) in this Westhaven community gathering space.
For every project SUNDEK works on, the color selection process is different. Often, clients will ask SUNDEK for advice on colors. "Sometimes clients have ideas for color schemes and we give our input about what would look best," Hubbard says. For this particular project, though, Benkendorfer + Associates had preselected colors for both the pool area and playscape, and Hubbard and his crew were able to do color matching with SUNDEK's SunDye line to create the desired colors.
Leading up to the agreed-upon completion date, rain delays created a time crunch at the end of the project. But since SUNDEK is often typically putting the final touches on projects, they're no stranger to juggling and rearranging schedules to meet deadlines. Even with delays, SUNDEK of Austin was able to install the pool area coating in about 4 days, and it took them about 3 days to apply color to the playscape. This quick turnaround meant the Westhaven community was able to open their pool area and playscape for residents in time for their grand opening.
CMA has done work with SUNDEK of Austin for more than 15 years now, and Copeland has nothing but positive things to say about SUNDEK. "They go above and beyond," Copeland says. "They are there when we need them, and they do exactly what we ask them to do. In the construction world, they're a rare breed." It's been two years since the project was completed, and Copeland says that everything has held up great and still looks beautiful, noting: "The clients are ecstatic about it."
Project location:
Westhaven
1201 Gaelic Drive, Georgetown, TX
SUNDEK products used:
Classic Texture (pool deck and splash pad)
SunDye (playscape)
Contact us
Contact us to get started on your project!
Call us: (512) 928-8000
Email us: [email protected]
Or fill out the form on this page
We work in all the major cities in the area including Austin, Bastrop, Cedar Park, Dripping Springs, Georgetown, Lakeway, Marble Falls, Pflugerville, Round Rock, San Marcos, Spicewood, and the surrounding areas.
Free Analysis & Estimate
Interview with Joe Copeland