Healthcare Facilities, Schools, & Churches
If you have a lot of people and equipment moving around in your facility, you know how important it is to have durable floors. At SUNDEK of Austin, we enjoy helping our clients in Austin and the surrounding areas get the best flooring for their space.
See more pictures these facilities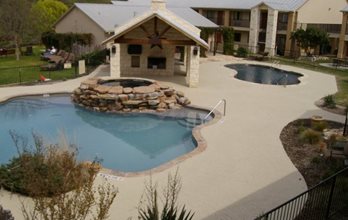 What types of floors can SUNDEK of Austin resurface
We can resurface floors in any area of your facility! Here are some of the of spaces we have resurfaced:
Bathrooms
Congregational spaces
Hallways
Hospital floors
Laboratories
Meeting rooms
Waiting rooms
…and more!
This is not an extensive list. Let us know if you have a different room in your facility you'd like resurfaced. We'll work with you to make it happen.
What are the design options with decorative coatings?
With decorative coatings by SUNDEK of Austin, the design options are endless. We have a wide variety of colors, patterns, and textures to choose from. We can even make your surface look like wood, brick, limestone, or any other material you like. We even create custom stamps to imprint company logos. Let us know what you have in mind, and we'll make it happen.
How long will it take SUNDEK of Austin to complete my project?
The amount of time it will take for us to complete you decorative coating project depends on the size of your space, what kind of condition your existing surface is in, and your design requests. We always work as efficiently as possible to complete projects within the customer's timeline so they can continue business as usual.
Contact us about your project
We would love to help with your project! Contact us in one of the following ways.
Call us at (512) 928-8000