Cracked Pool Deck Gets a Second Life in San Marcos, TX
Saddlebrook is a living community for residents of all ages located in San Marcos, TX. When their well-used pool deck needed an update, SUNDEK of Austin worked with them to come up with a plan.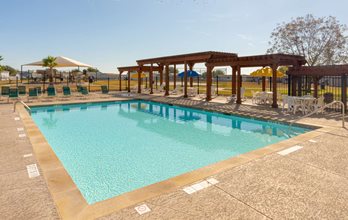 At Saddlebrook in San Marcos, TX, SUNDEK of Austin resurfaced the pool deck, applying Classic Texture in Mission Tan.
"In this area of Texas, it's not uncommon for concrete substrate to crack," says Zach Wheeler, outside sales representative for SUNDEK of Austin, due to much of the region having clay soil (source: USDA Web Soil Survey). Since cracking is inevitable, Wheeler and his team suggested that the community opt for SUNDEK's Custom Scoreline Effect.
Get a Free Quote
The Custom Scoreline Effect technique allows owners to resurface their cracked concrete without worrying that cracks will reoccur in the new decorative coating. Rather than fight the inevitability of cracks, the Custom Scoreline Effect works with it.
Rather than work against the cracks on the pool deck, SUNDEK of Austin worked with them by using the Custom Scoreline Effect. With this method, new scorelines are created to form a pattern that makes the existing cracks part of the new design.
To complete this process, contractors open cracks with a grinder wheel and then use the grinder wheel to create "handmade" cracks, creating a pattern that incorporates the existing cracks. Next, the cracks are filled with a urethane sealant to prevent water and debris from getting inside. This step also helps blend the original crack in with the newly created cracks. At SUNDEK, we like to call it "Mother Nature's expansion joints" since the cracks are there to do a job: control the natural expansion and contraction of concrete.
SUNDEK of Austin used Custom Scoreline Effect in combination with SUNDEK's Classic Texture. Classic Texture, SUNDEK's first coating product, has been around since 1970, and SUNDEK has been perfecting it ever since. "We always recommend it to our customers for pool decks," says Wheeler, adding that it's slip resistant and is comfortable to walk on, even on hot summer days.
Saddlebrook opted for Classic Texture in Mission Tan. Previously they had a lighter color for their pool deck, but they were looking for something a little darker. As well as wanting to give a brand-new look and feel to the space by changing the color slightly, they also opted for a somewhat darker color to hide dirt and debris that often accumulates throughout the day in a public space.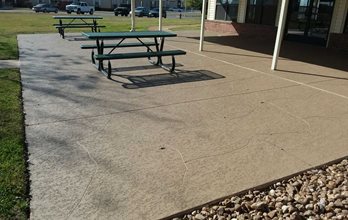 In this entry/patio space adjacent to the pool deck, SUNDEK of Austin applied Classic Texture and Custom Scoreline Effect to create a cohesive look throughout the community space.
In addition to resurfacing the pool deck, Saddlebrook wanted to resurface their patio and sidewalk—both are around the corner from the pool. These spaces both previous had a concrete stain applied. The SUNDEK of Austin crew removed the stain and gave the two spaces the same treatment as the pool deck: Classic Texture in Mission Tan with the Custom Scoreline Effect. The non-slip texture is ideal for pool decks, but also spaces where people may be walking with wet feet after coming out of the pool, such as this area at Saddleback.
The same product and application used on the entry area, sidewalk, and pool deck also ties the various spaces together visually. "I always recommend consistency when we're doing work on a property," says Wheeler, noting that it gives a property a cohesive look and feel.
The project took just 5 days to complete. In less than a week, Saddlebrook's community pool area (around 6,650 square feet) was transformed into a beautiful, comfortable, and safe space for all residents to enjoy.
Interested in having SUNDEK of Austin take a look at your pool deck? Contact us for a free quote!
If you're not located in or near Austin, TX, find a contractor near you.