Stained Concrete for Homes and Businesses
Whether your floor is damaged or you're just looking to give it an update, stained concrete is a great option. Stained concrete is incredibly versatile, durable, and attractive. At SUNDEK of Austin, we've been doing stained concrete in Austin and the surrounding areas at residential and commercial properties for more than 30 years. Whether you need stained concrete floors for your Austin home or stained concrete patio for your Austin business, we're here to help.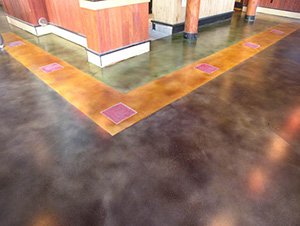 Why choose stained concrete?
The main benefit of stained concrete is that it allows a wide array of options for customization in terms of both color and pattern. You can stain concrete indoors or out, and you can apply it with other decorative concrete techniques such as stamping.
Contact Us About Your Stained Concrete Project
The stain permeates deep into the surface, creating a rich depth of color that you can't achieve with other building materials. The stain can even create a beautiful mottled appearance that mimics the look of natural stone, but the cost will be a fraction of what you would pay for using natural stone.
Staining options
SUNDEK has a line of products available in its SunStain line. This short video gives a brief overview of each product.
Here are the three staining options available in the SUNDEK SunStain line of products:
SunAcid. Get a translucent marbled effect with this acid-based stain. With SunAcid, you'll have a variety of earth-toned colors to choose from. Contact SUNDEK of Austin for acid stain concrete services
SunH20. This is a water-based stain that is a good option for people with allergies or other sensitivities that acid-based stains can sometimes trigger. SunH2O doesn't etch the surface, but its adhesive properties make it last a long time. With this option, you get to choose from a variety of vibrant colors that range from opaque to translucent. You can also layer and combine colors.
SunDye. This liquid is soluble in water or acetone. Use it with water to get color variation. Use it with acetone to get a darker, monotone look. You can use it on its own or in combination with SunAcid to get the color you want.
If you need help deciding which product is right for you, contact us!
What is the difference between acid stain and water-based stains?
Acid staining provides a unique effect to each surface because it reacts to the minerals and salts in the concrete. It gives concrete a variegated, mottled and marble-like look and produces stunning colors—mostly earth tone browns, reddish browns, and greens. It's very durable and can be applied on high-traffic areas. It can even be applied vertically to any concrete surface.
Water-based stains can be more customized that acid stains because they can be layered and infused with other colors. The color penetrates deep into the surface, creating a bold and rich hue and giving your concrete a more controlled and consistent color. This eco-friendly stain has a wide range of colors such as bright blues, greens, whites and a lot more.
What are the options for colors?
Remember that the look you get depends on whether you opt for a water-based stain or one with an acid base (see information above). Take a look at our color options available with staining.
Design options
Applying multiple layers of stain or blending different colors gives you an endless array of options for customization. Here are some other ways you can customize the look of your stained concrete floor.
Textures: A professional installer can use specific tools or stamps to give your stained concrete floor a dramatic or subtle texture.
Aggregates: You can add aggregates to a stained concrete floor. Not only will this give it a one-of-a-kind look, but aggregates can also make your floor slip resistant.
Color combinations: While many people stick with a single color, you can mix colors together or segregate the colors to create interesting design elements.
How it's done
Here's a general overview of how to stain concrete (this isn't intended to be used as step-by-step instructions for staining your own concrete floor).
Prepare surface. Preparations for staining depends on the condition of the concrete. Thoroughly cleanse all surfaces by either scrubbing or grinding the surface. Old or damaged surfaces often need more preparation.
Apply stain. Spray the stain solution onto an existing concrete or decorative concrete surface. If necessary, layer and combine it with other colors to achieve the desired look.
Apply a protective coat. Add a clear sealer to protect the color from fading over time. It will also add shine and depth. (Read more about the importance of sealers.)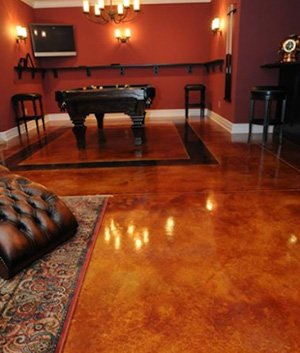 Why hire a professional
While you might be able to stain your floor yourself, there is a lot of room for error—you could end up with a floor that looks uneven and patchy. Your best bet is to hire an experienced professional to complete the job. At SUNDEK of Austin, we're always educating ourselves on best practices so we can continue doing excellent work.
Get a Free Quote
Staining a damaged concrete surface
If you have a damaged concrete surface, staining is still a possibility. At SUNDEK of Austin, we specialize in creating decorative concrete surfaces, but concrete repair is another specialty of ours. As long as the surface is viable, we can repair the damage then stain the surface—giving you the look you want.
Contact us
Contact SUNDEK of Austin for your concrete staining needs. SUNDEK of Austin is one of the best concrete staining contractors in the area.
Call us: (512) 928-8000
Email us: [email protected]
Or fill out the form on this page
We work in all the major cities in the area including Austin, Bastrop, Cedar Park, Dripping Springs, Georgetown, Lakeway, Marble Falls, Pflugerville, Round Rock, San Marcos, Spicewood, and the surrounding areas.
If you're not in the Austin area, click here to find concrete staining companies near you.