Walkways, Entryways & Porches
A walkway, entryway, or porch is the first thing you and your guests see when approaching your home or business. If you're looking to make a great first impression, let SUNDEK of Austin help!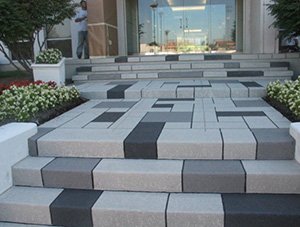 See more images of walkways, entryways, and porches
Reasons to resurface a walkway, entryway, or porch
Some people choose to resurface their existing concrete because it's faded or damaged in some way. Others are just looking for an updated design. If your existing surface is damaged, don't worry—we can address the damage and also assess what caused it so we can prevent further damage.
Why work with SUNDEK of Austin?
We have been resurfacing concrete for more than 30 years in Austin and the surrounding areas. Since we know the area so well, we know the best weather conditions and temperatures for applying coatings and sealers so that your walkway, entryway, or porch looks as professional as possible. We also work with the best products in the industry. A SUNDEK surface has the following qualities:
Durable & long lasting. As long as you properly maintain your surface and have it sealed, it will look incredible for years to come. Our coatings are used for locations ranging from restrooms to airplane hangars, so they can handle whatever comes their way—whether it's constant foot traffic, oil spills, or weight from heavy machinery.
Easy to maintain. Our high-quality sealers make the surface non-porous, so stains don't penetrate the surface. That makes them easy to clean. General maintenance requires sweeping, blowing, or hosing off debris. For tough-to-remove stains, use a non-abrasive commercial cleaner.
Beautiful. There are many options available when choosing a design for your walkway, entryway, or porch. We have a variety of colors, patterns, and textures to choose from. You can even mimic the look of another material such as wood, limestone, or brick.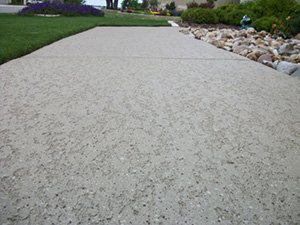 Frequently asked questions about resurfacing walkways
I already have a walkway, but I want to extend it or change the shape. Is that possible with resurfacing?
Yes! If you want to extend your walkway, we will pour new concrete where desired then apply a coating to the entire surface. You won't be able to tell where the existing surface ends and the new one begins.
What if my surface is uneven? Can that be fixed with resurfacing?
Yes! We can resolve uneven spots by applying a thicker coating wherever needed, getting rid of trip hazards and spots where water puddles.
Contact us
Contact us to get started on your walkway, entryway, or porch project!
Call us: (512) 928-8000
Email us: [email protected]
Or
fill out the form on this page
We work in all the major cities in the area including Austin, Bastrop, Cedar Park, Dripping Springs, Fredericksburg, Georgetown, Lakeway, Marble Falls, Pflugerville, Round Rock, San Marcos, Spicewood, and the surrounding areas.