Epoxy Flooring for Austin Garages, Warehouses & More
SUNDEK of Austin has been installing high-quality epoxy floors in Austin and the surrounding areas for decades.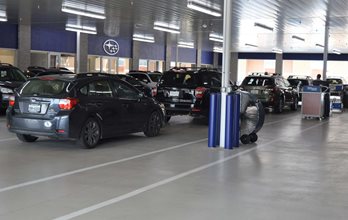 SUNDEK of Austin installed this epoxy surface at a Subaru dealership in Austin, Texas.
What are epoxy floors?
Epoxy floors are created by applying a coating made of a polymer resin and hardener to a concrete surface. The coating adheres to the surface, creating a heavy-duty layer that can withstand heavy use. They can be customized in a variety of colors which can be applied in various ways to create different effects.
Contact us for a free quote
Where can you put an epoxy floor?
Epoxy floors are great for high-impact locations that need durable flooring. Here are some of the common types of locations we install them:
Garages
Kitchens
Laundry rooms
Mechanic shops
Restrooms
Warehouse floors
Don't see the location you want to epoxy on this list? Contact us—we'll make it happen!
Are epoxy floors slippery?
Even though they look like they might be slippery, epoxy floors will not be slippery if they are installed properly. Professional contractors apply skid-resistant properties to epoxy flooring to ensure it's not prone to slip-and-fall accidents.
At SUNDEK of Austin, the safety of our clients and their guests is our priority. We only use SUNDEK products which include the necessary skid-resistant components. Since we install flooring for waterparks and other locations where there's often the possibility of water on the ground, we are well versed in creating surfaces that are slip resistant.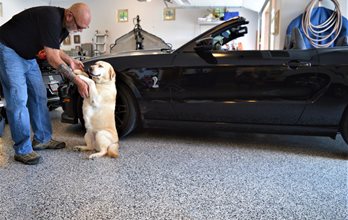 SUNDEK of Austin installed this epoxy garage floor at a residence in Marble Falls, TX.
Are epoxy floors expensive?
The cost of your epoxy flooring depends on several factors such as the size of your space, the condition of your existing surface, and what type of design you're looking for. The best way to get an accurate quote is to call an experienced contractor such as SUNDEK of Austin.
Keep in mind that pricing is relative. If you look at pricing for an epoxy floor installed by a professional and compare it to the price of applying an epoxy paint yourself, then the professionally installed floor will cost more. But keep in mind that you get what you pay for. If you want something that lasts and maintains its quality, having an epoxy coating installed by a professional contractor such as SUNDEK of Austin is the way to go.
What is the difference between an epoxy coating and epoxy paint?
You've probably seen epoxy paint at a hardware store at some point. It's important to remember that epoxy paint and epoxy coatings are not the same.
Although epoxy paint does have a small amount of epoxy in it that makes it adhere to surfaces better than latex or other types of paint, it doesn't compare to an epoxy coating which creates a protective layer. You can learn more about the difference between epoxy paint and epoxy coatings here.
Are epoxy floors durable?
Yes, epoxy floors are impressively durable. They can withstand the weight of heavy machinery, oil spills, and more. That's why we've installed them in places such as mechanic shops, laboratories, warehouses, and even airport hangars. That's why when customers ask, "Are epoxy floors worth it?" we reply with an emphatic "yes!"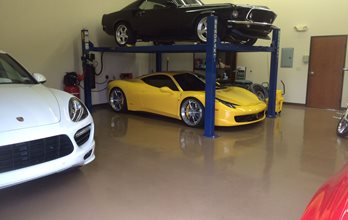 At Elite Motorsports, a used car dealership in Austin, TX, SUNDEK of Austin installed this durable epoxy floor.
How to clean epoxy floors
Epoxy floors are simple and straightforward to clean. It's one of the reasons homeowners love it for their garages and commercial property owners love it for their warehouses and other areas that need to withstand heavy weight and other types of tough use.
General maintenance includes:
Sweep as often as needed to keep the area free of dirt and other debris.
Clean spills from things like oils and chemicals when they occur.
Mop and hose off the surface as often as needed to prevent grime build-up.
For hard-to-clean spots, use a non-abrasive commercial cleaner.
Your contractor can give you more specific information about how to keep your epoxy surface looking as good as possible.
Who does epoxy garage floors near me?
SUNDEK of Austin installs epoxy surfaces in all the major cities in the area including Austin, Bastrop, Cedar Park, Dripping Springs, Fredericksburg, Georgetown, Lakeway, Marble Falls, Pflugerville, Round Rock, Spicewood, and the surrounding areas.
We'd love to help with your project! Contact us to get a free quote.
Call us: (512) 928-8000
Email us: [email protected]
Or fill out the form on this page
If you're not in the Austin area, check out SUNDEK contractors in our other locations.