Industrial Floor Coatings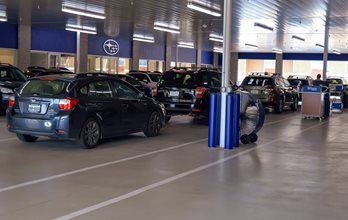 See more images of industrial floors
Industrial floors need to be tough and able to withstand everything from oil spills to the weight of heavy machinery. SUNDEK's epoxy flooring systems are perfect for commercial locations that need high performance floors that are abrasion resistant, long lasting, and easy to keep clean. SUNDEK's epoxy floors can be applied in a wide range of locations including:
Assembly plants
Aviation
Distribution warehouses
Food processing
Institutional
Laboratories
Manufacturing facilities
Pharmaceutical
…and more!
Contact us for a free quote
What is the best flooring solution for industrial floors?
Commercial property owners in need of industrial flooring that's heavy duty will appreciate the durability of epoxy floors. Epoxy flooring has the qualities needed for flooring in an industrial setting. In addition to being easy to maintain, they also have chemical resistance and slip resistance. Furthermore, they are extremely durable and can stand the test of time. Unlike other types of flooring materials, epoxy will not crumble or crack under the pressure of heavy machinery or equipment.
What products does SUNDEK use?
We only use tried-and-true SUNDEK products that have a reputation for being some of the best in the industry. SUNDEK has several industrial flooring options. Here are products we commonly use on industrial floors.
SunEpoxy 54: This flooring is perfect for areas where light manufacturing occurs. It's also good for warehouses or automotive repair facilities.
SunEpoxy 100: This is a heavy-duty floor that can withstand even more abrasions and impact. It's good for spaces with frequent traffic from heavy machinery.
SunOne: This durable polyaspartic coatings is designed so that it can be applied and cured quickly.
If you're feeling overwhelmed looking at these different types of industrial flooring types, contact us. We can discuss your particular project and determine which product will work best for your needs.
Related: Epoxy Flooring
Why use SUNDEK coatings for your industrial floors?
In addition to being incredibly durable and lasting for years, our surfaces are also safe. We regularly install surfaces at places such as waterparks and other facilities with pools, so we are practiced in creating surfaces that are slip resistant. We know that spills and other accidents are bound to happen, so we want to make sure your floor is ready for anything that may come its way.
Can an epoxy flooring coating be applied to my existing surface?
Yes, an epoxy coating can be applied to the top of your existing concrete slab as long that surface is viable. If you have minor damage, that's OK, but significant damage such as very large and deep cracks should probably not be used as a foundation for a new coating. The best way to find out for sure is contact a contractor to come take a look. At SUNDEK, we will never recommend a client resurface concrete that's not going to last. Contact us for a free quote.
Working with an experienced contractor such as SUNDEK of Austin is critical. We are experienced in concrete repair so we know how to repair damage so that it will not reoccur again in your new surface.
Industrial flooring ideas
We can customize the look of your floor to fit the design of your space—whether you want something simple or detailed. To make it possible for you to make your floor unique to your location, we have a variety of colors and effects to choose from. Keep in mind that there are many possibilities when it comes to designing your floor, so don't hesitate to ask us how we can make your vision happen. At SUNDEK of Austin, we love creating surfaces that our clients love—we can even create custom logos.
Maintaining an epoxy floor
Our clients are often surprised to find that an epoxy floor coating is easy to clean. One of the great things about epoxy floors is that when spills happen, they're very easy to wipe up. That's one of the reasons they're perfect for places such as mechanic shops and labs where there's a lot of potential for spills. With that said, though, it's important to wipe up spills as you see them.
To maintain your epoxy floor, sweep or blow off dust, dirt, and other debris as needed. Mop, hose, or pressure wash grime every so often to keep the floor free of grime. For spots that are hard to clean, you can use non-abrasive commercial cleaners.
Contact us
Call us: (512) 928-8000
Email us: [email protected]
Or fill out the form on this page
We work in all the major cities in the area including Austin, Bastrop, Cedar Park, Dripping Springs, Georgetown, Lakeway, Marble Falls, Pflugerville, Round Rock, San Marcos, Spicewood, and the surrounding areas.