Epoxy Floor in San Marcos, TX
A plain gray concrete floor gets a makeover with an attractive epoxy coating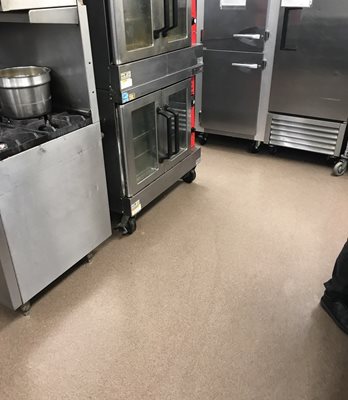 SUNDEK of Austin resurfaced the kitchen floor at Brookdale San Marcos North using an epoxy system combined with crushed quartz.
In most cities around the country, one of the many requirements for an establishment to operate a commercial kitchen is a sealed floor. When the owners at Brookdale San Marcos North realized they needed to seal the plain concrete floors in the 1,300 square-foot kitchen at their assisted living facility in San Marcos, they contacted SUNDEK of Austin—a contractor well known for installing beautiful concrete floors in the area.
Get a Free Quote
Although they weren't sure what specific flooring product they needed, Brookdale communicated a few requirements to Zach Wheeler, outside sales representative for SUNDEK of Austin. They told him that they wanted the kitchen floor to have these qualities:
Sealed to pass health inspections and prevent water, oils, and other liquids from absorbing into its surface
Slip resistant to prevent accidents when spills occur
Durable enough to withstand the constant cleaning that inevitably arises in commercial kitchen environments
Upon learning the customers' needs, Wheeler suggested SUNDEK's SunEpoxy 100 product with the addition of SunFlek for extra grip. According to Wheeler, since SunEpoxy 100 has low volatile organic compounds (VOC), it's a great option for kitchens. Its durability makes it suited for withstanding the types of spills that occur in kitchens from things like grease, oils, and more. SunEpoxy 100 can be applied in one seamless floor, creating a chic look.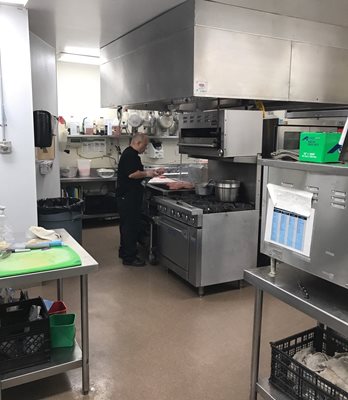 The addition of crushed quartz (SunFlek) gives the floor somewhat of a grip, making it safe for chefs and other employees to walk on it, even when there are spills.
The addition of SunFlek is what gives the floor a textured appearance and makes it less prone to slip-and-fall accidents—critical in a location where there are lots of people walking around and a high chance of spills. SunFlek is a crushed quartz system that gives the surface a rough, sandpapery texture.
When it came to choosing a color for the floor, Wheeler showed Brookdale SUNDEK's line of colors available with SunEpoxy 100. With all of SUNDEK's epoxy products, there are 16 colors to choose from, and SUNDEK can even create custom colors. In this case, the customer really liked the look of Mocha Tweed Quartz.
One of the best qualities of an epoxy floor is their easy maintenance. Wheeler says that you can typically clean an epoxy floor with any household cleaner such as Pine-Sol, and he always makes sure his clients know not to choose bleach. Bleach will soften the epoxy resin and ruin the color.
In only six days, SUNDEK of Austin was able to successfully transform a plain gray concrete floor into an eye-catching and durable kitchen floor. Despite the many spills and countless rounds of cleaning this floor receives, it remains attractive, safe for foot traffic, and ready to withstand anything that comes its way.
Contact us
Contact us to get started on your project!
Call us: (512) 928-8000
Email us: [email protected]
Or fill out the form on this page
We work in all the major cities in the area including Austin, Bastrop, Cedar Park, Dripping Springs, Georgetown, Lakeway, Marble Falls, Pflugerville, Round Rock, San Marcos, Spicewood, and the surrounding areas.