Concrete Resurfacing Costs in Austin and the Surrounding Areas
How much does it cost to resurface concrete?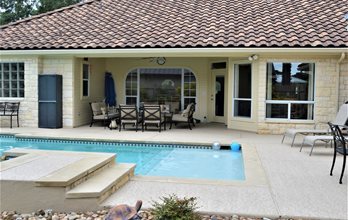 SUNDEK of Austin resurfaced this pool deck and sitting area at a residence in Cedar Park, TX.
When budgeting for residential or commercial projects, homeowners and commercial property owners alike have the same chief question: How much does concrete resurfacing cost? Although an immediate answer would be nice, the honest answer is: it depends. Resurfacing costs can range from $3 to $25 per square foot. It requires a look into the conditions of your project to get an accurate estimate.
Contact us for a free quote
*Minimum prices for various applications range from $850 to $3500.
Variables that affect resurfacing costs
There are several aspects of a project that can affect the final cost. Here are the main factors to consider:
Size of the area being resurfaced
Condition of the existing surface
The products used
Your design choices
Keep in mind that if your surface is damaged, the repair work will add to the final cost of your project. Also, if you choose a basic design, your project cost will be less expensive than an elaborate design.
Is it better to tear out concrete or have it resurfaced?
Concrete resurfacing is superior to demolition because you don't have to pay for resources required to rip out the concrete and dump the torn-up materials. Aside from cost, it's also more eco-friendly and efficient to resurface. For commercial property owners, efficiency is key. The less amount of time your site looks and feels like a construction zone, the better.
Rest assured that at SUDEK of Austin, we will never resurface concrete that isn't viable. We want every surface we work on to be structurally sound, so we do not apply coatings to failing concrete surfaces.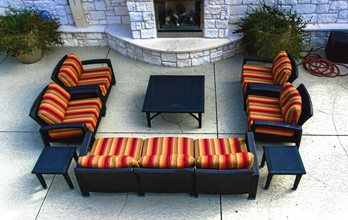 SUNDEK of Austin resurfaced this outdoor living space in Austin, TX.
Is it expensive to resurface damaged concrete?
It does cost more to resurface damaged concrete than it costs to resurface concrete in perfect condition. However, it is much less expensive to resurface damaged concrete than it is to tear out your existing concrete and start from scratch.
Learn about our Custom Scoreline Effects technique which allows us to incorporate your concrete's cracks into the design of your new surface.
What customers say about our prices
Here's what our past clients had to say about how we price resurfacing work:
We had all the options explained, got advice on what worked well and what other clients had not been crazy about, and had an estimate delivered that was reasonable. (Bonnie C.)
They did the work as promised, the estimate was accurate, the workers were polite and helpful. (Frank G.)
We contacted Sundek after getting two bids from contractors to stain concrete on a patio remodel. Kevin was on time for our appointment and had everything he needed to provide a bid on the spot. He answered questions, made some suggestions and presented us with 3 alternative bids during our first appointment. (Art L.)
Get an estimate for your resurfacing project
The best way to get an accurate estimate for your project is to have a contractor such as SUNDEK of Austin come out to analyze your site. Contact us for a free estimate!
Contact us for a cost estimate
We'd love to hear from you
Email us: [email protected]
Call us at (210) 491-0280
Or fill out the form on this page
We work in all the major cities in the area including Austin, Bastrop, Cedar Park, Dripping Springs, Georgetown, Lakeway, Marble Falls, Pflugerville, Round Rock, San Marcos, Spicewood, and the surrounding areas.