Hotels & Motels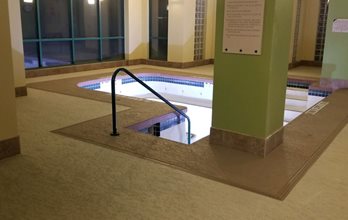 For decades, SUNDEK of Austin has been installing eye-catching surfaces at hotels, motels, and other hospitality industries.
See more pictures of Hotels & Motels
What types of spaces can SUNDEK of Austin resurface at hotels and motels?
SUNDEK of Austin can transform any space, but here are some of the common areas we resurface at hotels and motels:
Bathrooms
Dining areas
Driveways
Entries
Lobby floors
Pool decks
Porte-cochère
Get a free quote
How long does it take to resurface?
The length of time it will take to work on the surface at your location depends on a variety of factors such as the size of the space, the type of design you want, and weather. We know that you can't afford to have large spaces of your hotel or motel closed for a long period of time, so we work diligently to get the job completed as quickly as possible while also doing quality work.
What are the design options?
Because we have such a wide variety of colors, patterns, and textures, we can create just about any design you dream up. Some hotels have asked us to imprint logos into their entry floors. Other have asked us to help create a unique design for their pool deck that will leave their guests with a lasting impression. No matter your design goal, we can help.
See one of our projects at a resort in Round Rock, TX.
Contact us about your hotel, motel, or other hospitality project
We would love to help with your project! Contact us in one of the following ways.
Call us at (512) 928-8000