Stained Concrete Floors – Ideas to Take Them to a New Level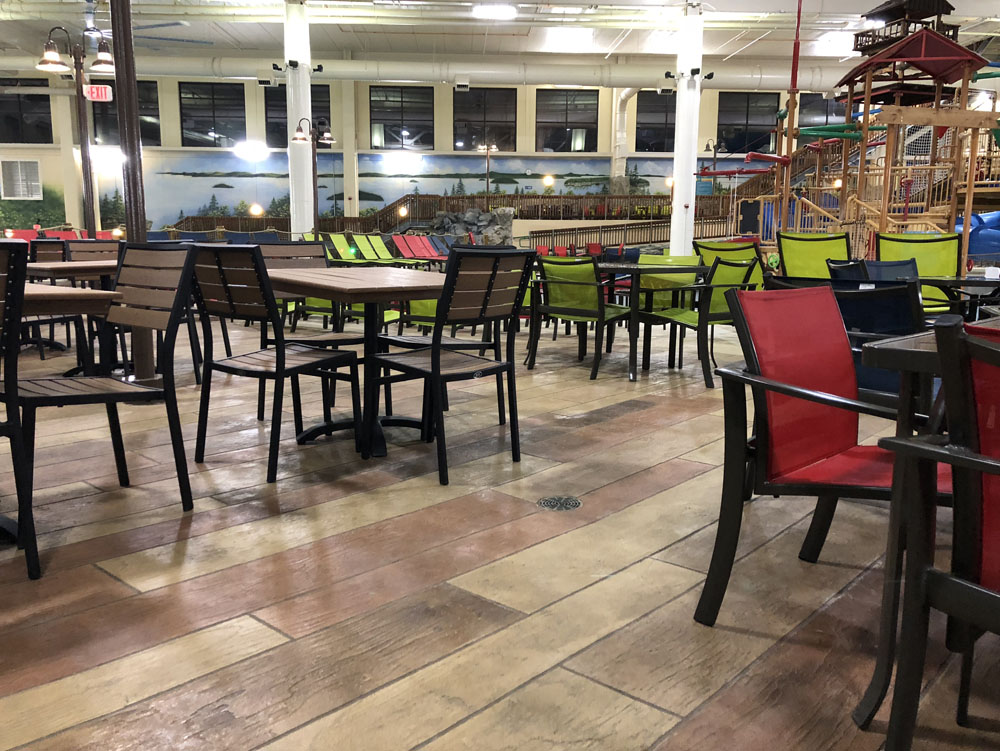 Stained Concrete Floors over a Tuscan overlay
On their own, stained concrete floors have a rich and sophisticated look. For that reason, it is common for both home and business owners to choose them over other decorative concrete solutions. Whether going with a water- or acid-based stain, using products like SunH20 or SunAcid, respectively, there are ways to achieve a high level of sophistication.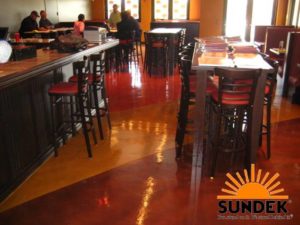 Sundek SunDye Concrete Stain
a class="btn btn-block btn-lg main-cta marginBottomBig marginTopReg animatable fadeInUp mx-auto CTAInner" href="/contact-us/" title="" style="width: 320px; margin-top: 1em;">Free Analysis & Estimate
Before going over a few options, remember that the initial look you achieve varies depending on whether you opt for a water-based stain or one with an acid base. For instance, with water-based stained concrete floors, you have a much broader range of colors, especially bold and vibrant ones. In comparison, an acid stain offers fewer colors, but it results in a marbled effect that looks stunning.
Finishes – A skilled installer or contractor can create almost any color finish you want. As an example, if you have a home in the mountains or a casual retail store, you could have your floors colored to look like actual hardwood. Using different colors, you could even create the look of a specific variety of wood, whether mahogany, pine, oak, or something else.
Textures – Texturing stained concrete floors is yet another possibility. In this case, the expert would use different tools to give the color a unique texture. Not only does this change the overall appearance, but it can be dramatic or subtle.
Slip Resistant Aggregates – You can even choose to have aggregates added to the sealer of stained concrete floors. Something like tiny sand is a perfect way to create a one-of-a-kind masterpiece that also makes the floors slip-resistant.
Colors – While a lot of people stick with a single color, whether using a water- or an acid-based stain, you can increase the level of sophistication by choosing several colors. An expert can incorporate more than one color over the entire surface or create interesting design elements by segregating the colors. Either way, everyone will envy your floors.