Custom Splash Pad Coatings by SUNDEK of Austin
Splash pads—sometimes called spray parks or water playgrounds—are a wonderful place to cool down during our hot Texas summers.
What is a splash pad?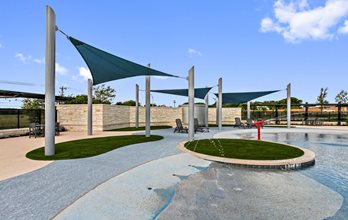 See more pictures of splash pads
A splash pad is a surface that emits water, providing a place to play and cool down on hot days. They are generally thought of as safer than community pools as they don't pose a drowning risk. Their slip-resistant surface also makes them safe for children to run around without worrying about slip-and-fall accidents. A well-built splash pad collects water, sanitizes it, and then reuses it.
Contact us for a free quote
See a splash pad and pool SUNDEK of Austin installed
In addition to splash pads, we also work on pool decks (plus patios, driveways, garages, and more!). In this video, you can see a pool deck and splash pad we installed at an amenities center in Georgetown, TX.
You can also read more about this project here.
Why have SUNDEK of Austin install your splash pad
If you are interested in having a splash pad installed, we can help! We have been in business since 1988 and are trusted contractors in the area. We'll make sure your splash pad has these important qualities:
Safe. Because splash pads are intended for play, it's critical that they are slip-resistant when wet. We texture our surfaces so they're not slick.
Long-lasting. If you're going to invest the money and time into a big project like a splash pad, make sure you work with a reputable contractor who uses tried-and-true products. At SUNDEK of Austin, we work with the best products in the industry and get the job done well so our clients have a splash pad that holds up well for years to come.
Beautiful. We can customize your splash pad to meet the needs of your space. Want a logo imprinted on the surface? We can do that. Interested in creating a unique design? We can do that, too. Whatever your vision is, we can make it happen.
Is there something else you want in a splash pad that's not on this list? Give us a call to discuss your specific project and get a free quote.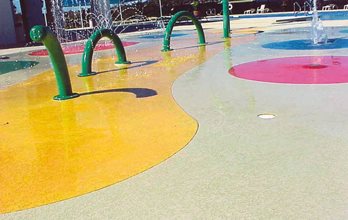 A colorful splash pad installed by SUNDEK of Austin.
What products does SUNDEK of Austin use to install splash pads?
We only use SUNDEK products, which have a reputation for being some of the best in the industry. When you contact us for a free quote, we can discuss what product would be best for your project, but here are the SUNDEK products commonly used for splash pads (often used in combination with one another):
SunSplash is an overlay that creates a slip-resistant surface.
SunColor is an acrylic finish coat that can be applied over textured or bare decorative concrete.
SunSand is what we use to give texture to the surface.
How long does it take to install a splash pad?
The length of time it will take to complete the installation of your splash pad depends on a few things: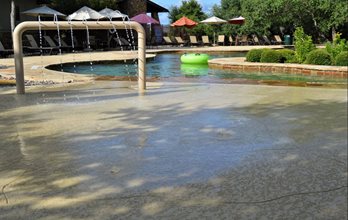 SUNDEK of Austin installed this splash pad along a lazy river in Marble Falls, TX.
The condition of your existing concrete surface.
The size of the splash pad.
The type of design you want.
We pride ourselves on working closely with our customers to complete your project within your desired timeframe. The best way to get a time estimate is to have us come look at your site and discuss what you want done.
Contact us about your splash pad project
We would love to help with your project! Contact us in one of the following ways.
Call us at (512) 928-8000