A Subtle & Beautiful Stained Pool Deck in San Marcos, TX
The Social in San Marcos, TX, is a student apartment complex just about 1 mile from Texas State University. During the development of the living spaces, Redwood Construction hired SUNDEK of Austin to stain the concrete around the community pool deck.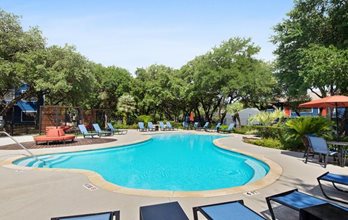 At The Social, a student living apartment complex in San Marcos, TX, SUNDEK of Austin stained the pool deck with SunH2O in Pewter Gray.
Get a free quote
Initially, the builder requested acid stain, but Wheeler and his team suggested they use a water-based stain—SUNDEK's SunH2O—instead. Acid stain begins reacting with the concrete immediately upon application, so it can tend to create a mottled look and can sometimes show up inconsistently in spots, which is not the look they were going for here. Rather, SunH2O would provide a more even color. Learn more about the options for stained concrete.
SUNDEK's SunH2O is a combination of water-soluble polymers and liquid pigments. It also contains an adhesion promoter that makes it superior to other brands of water-based stains. Another advantage is that water-based stains do not need to be neutralized like acid stains.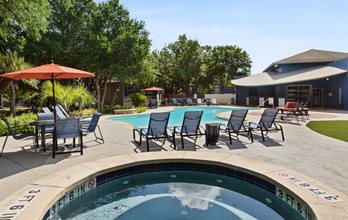 SUNDEK of Austin contractors sealed the pool deck using a clear sealer to prevent everyday wear and tear that often occurs in a community pool area.
One of the benefits customers experience when working with SUNDEK contractors is that while customer needs are carefully considered, our contractors always advise alternative options based on their experience. After doing this type of work for so long, contractors get an excellent sense for what works and what doesn't. In this case, the customer agreed that SunH2O would be the right product for this space.
Wheeler suggested the SunH2O stain in Pewter Gray. The subtle, neutral gray color is perfect for the area—complementing rather than competing with the wood material that makes up the circular accent piece on the deck and nearby fencing.
For a community pool area, gray is a more fitting choice than white, as dirt and grime that builds up during the day would be more visible on a stark white pool deck. In a shared pool area, regular cleaning is always encouraged, but since dirt accumulates more quickly the more people you have, a color other than white will hide it better.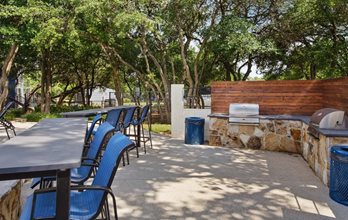 The Pewter Gray stain complements surrounding materials nicely. It's a nice alternative to stark white which can sometimes show stains more readily.
After the stain was applied and had enough time to dry, SUNDEK of Austin applied a clear coat of sealer. A sealer is a must for any concrete surface, but especially one on which many people will be walking and hanging out—such as a shared pool deck.
SUNDEK's high quality sealers protect surfaces from flaking, general wear and tear, and abrasions. It also prevents mold and mildew which can be common nuisances on pool decks. Often, more chemicals are used in community pools, and sealers will protect a concrete surface from damage from chlorine. (You can read more about our sealers here.)
Three days after they began, SUNDEK of Austin completed the job of staining and sealing the 3,705 square feet of concrete around the pool deck at the Social, providing a beautiful space for residents to lounge and soak up the sun for years to come.
Interested in having SUNDEK of Austin take a look at your pool deck? Contact us for a free quote!
If you're not located in or near Austin, TX, find a contractor near you.