If you're looking for a beautiful flooring for your indoor or outdoor surface, stamped concrete is a great option. Not only is it durable and easy to maintain, there are endless choices for colors, textures, and patterns. At SUNDEK of Austin, we have been installing stamped concrete at residential and commercial properties for more than 30 years.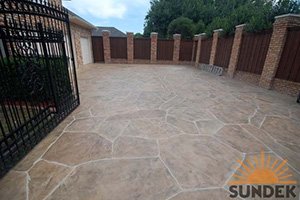 Benefits of stamped concrete
Unique texture via custom or pre-fabricated templates, or through freeform carving
Wide color selection using acrylic finish coats, stains, and colored oxides
Affordable
Versatile
Easy to maintain
How is stamped concrete applied?
After applying a coating to your existing surface, we use a concrete stamp to imprint the pattern. We will also apply the requested colors and aggregates. You can have stamped concrete applied to virtually any concrete surface, including water features, fire pits, walls, and built-in seating.
Watch this video to see SUNDEK's stamped concrete application process.
Do I have to tear out my existing concrete surface?
No! When you work with an experience contractor like SUNDEK of Austin, we can apply a coating to the top of your existing surface. In addition to concrete, we can apply coatings on top of stucco, drywall, brick, and other surfaces. This way you can prevent the hassle and the mess, but you still get a surface that looks brand new.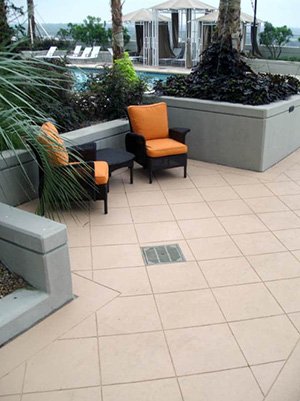 What design options are available?
If you're looking for ways to bolster the look of your home without breaking the bank, stamped overlays are an excellent choice. Do you love the look of pricey slate, brick or flagstone? Or perhaps tile or wood? With overlays, you can get the look of these expensive products at a fraction of the cost. At SUNDEK we have pre-fabricated templates, custom stamp mats, and many colors to choose from (learn more about our stained concrete services). You can also create a custom stamp with a pattern and texture you love. We can even create custom freeform designs.
What if my existing surface is damaged?
Even if your surface is cracked, flaking, or spalling, be sure to contact us, because concrete repair is one of our specialties. We will assess the existing damage. As long as the surface is viable, we will repair it then apply a coating on top to make your surface look brand new.
If you already have stamped concrete that's damaged, we can fix that with our SunRestore product.
What is maintenance like for a SUNDEK surface?
The most important step you can take to maintain your stamped concrete surface is to have it sealed after it's installed. At SUNDEK of Austin, we have high-quality sealers that will protect your surface from the elements. Your SUNDEK installer will advise you on how often to reseal the surface. (Read more about why sealers are so important.)
Maintaining your stamped concrete surface is simple. General maintenance includes sweeping or blowing off dust, dirt, and other debris every few weeks. For spots that are hard to remove, you can use a non-abrasive commercial cleaner.
Contact us
Contact us to get started on your stamped concrete project!
Call us: (512) 928-8000
Email us: [email protected]
Or fill out the form on this page
We work in all the major cities in the area including Austin, Bastrop, Cedar Park, Dripping Springs, Georgetown, Lakeway, Marble Falls, Pflugerville, Round Rock, San Marcos, Spicewood, and the surrounding areas.