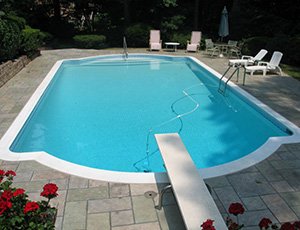 See more pictures of pool decks here
Pool deck resurfacing makes hanging out by a pool a welcome activity during our long, hot summers in Austin. A pool deck that's beautiful, safe, durable, and comfortable to walk on makes that experience even better. If your pool deck needs some work, SUNDEK of Austin can help. We have been resurfacing residential and commercial pool decks in the area for more than 30 years.
What we do
SUNDEK of Austin can resurface your existing pool deck by coating the surface and then designing it to look any way you want. Resurfacing is a wonderful option because it eliminates the need for you to demo your existing pool deck (saving you the mess and the headache).
Free Analysis & Estimate
What if my existing pool deck is damaged?
Even if your existing pool deck has damage such as cracks, spalling, or flaking, we can still resurface it to make it look new. We will also look into the problem and determine how to prevent the damage from occurring again.
What types of design options are available?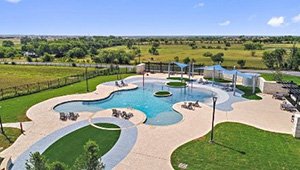 With SUNDEK of Austin, the sky is the limit when it comes to design. You can choose from a variety of colors, textures, and patterns to create a look you love. We can also create the look of materials such as brick, cobblestone, wood, limestone, and more. Keep in mind that we work on other surfaces besides pool decks—so we can resurface a nearby retaining wall or walkway to match or coordinate with your pool deck.
Will my pool deck be slippery?
Safety is one of our top priorities. That's why we texture pool deck surfaces to make them slip resistant in order to help prevent slip-and-fall incidents. Read more about our anti-slip efforts here.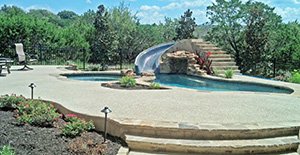 Will the surface be too hot to walk on during summer?
One of our most popular pool deck resurfacing products is Classic Texture. It is known for being cooler to the touch than other decorative concrete. Using Classic Texture and choosing a light color for your pool deck will mean you can walk on it in summer without burning your feet. This is a must, considering how hot summers can get in Austin and the surrounding areas. (Classic Texture can be customized with colors, score lines, aggregates, patterns, and textures.)
What is it like to clean?
The wonderful thing about SUNDEK surfaces is that they are non-porous. That means things like dirt and oil won't easily penetrate the surface. General maintenance includes sweeping or hosing off dirt and other debris every few weeks. For stains that are hard to remove, you can try a pressure washer or non-abrasive commercial cleaner. See more about maintenance here.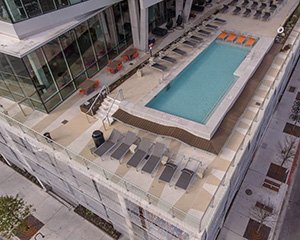 How long does it take to resurface a pool deck?
The time required to finish your project depends on how large your pool deck is, the condition of your existing surface, and what type of design you're looking to do. We pride ourselves on working efficiently so you can use your stunning new pool deck as soon as possible.
Contact us
Contact us to get started on your driveway project!
Call us: (512) 928-8000
Email us: [email protected]
Or fill out the form on this page
We work in all the major cities in the area including Austin, Bastrop, Cedar Park, Dripping Springs, Fredericksburg, Georgetown, Lakeway, Marble Falls, Pflugerville, Round Rock, San Marcos, Spicewood, and the surrounding areas.