Driveway Resurfacing
A driveway is often the first thing people see upon approaching a home or business, so the way it looks is an important consideration for homeowners and business-owners. SUNDEK of Austin has been installing beautiful and durable driveways for more than 30 years.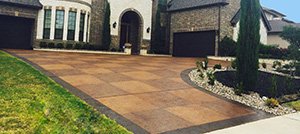 Is my driveway a candidate for resurfacing?
There are several reasons why our clients decide to have their driveways resurfaced. One reason is that the color is fading. Another is that the client is ready for an updated look. For some, their driveway has cracks, spalling, or flaking, or other damage. Whatever the reason, SUNDEK of Austin can resurface your driveway as long as it's a viable surface. The beauty of resurfacing is that you don't have to tear out your entire driveway to get a brand-new look.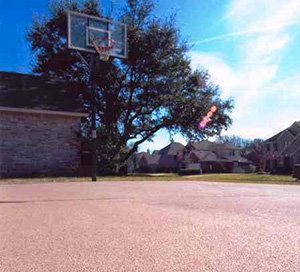 Free Analysis & Estimate
How does resurfacing work?
After we address damage and prepare the surface, we apply a coating to the top of your existing driveway. We then customize the look of your driveway by stamping, adding color, aggregates, scorelines, or textures. Finally, we seal the surface, which will protect it for years to come. (Learn more about why it's necessary to seal concrete.)
What types of design options do I have?
When choosing a design for your driveway, the sky is the limit! We have many colors, textures, and patterns to choose from. You can come up with your own custom patterns, too. We can even mimic the look of brick, limestone, cobblestone, or any other material you like. Keep in mind that we can work on other surfaces besides driveways—walkways, entryways, porches, and more—and those features can be resurfaced to match or coordinate with your driveway.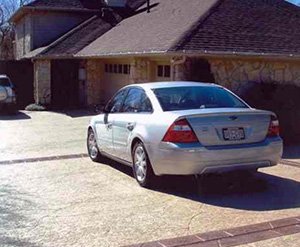 What maintenance is required?
Taking care of a SUNDEK surface is simple because our high-quality sealers make the surface non-porous. General maintenance includes sweeping, blowing, or hosing off the surface to remove dirt and other debris every few weeks. For stains that are difficult to remove, a pressure washer or non-abrasive commercial cleaner will typically resolve the issue. (Read about tire marks on concrete.)
Contact us
Contact us to get started on your driveway project!
Call us: (512) 928-8000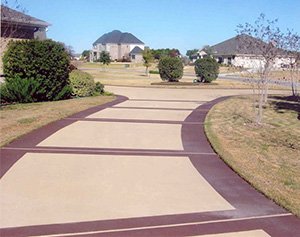 Email us: [email protected]
Or fill out the form on this page
We work in all the major cities in the area including Austin, Bastrop, Cedar Park, Dripping Springs, Fredericksburg, Georgetown, Lakeway, Marble Falls, Pflugerville, Round Rock, Spicewood, and the surrounding areas.