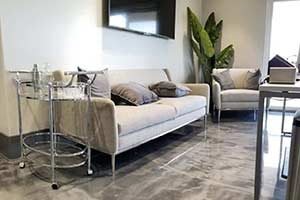 Resurfacing isn't just for outdoor surfaces and garages—it's a great option for interior floors, too! At SUNDEK of Austin, we have been making beautiful and durable floors with decorative concrete and epoxy coatings for more than 30 years.
Which rooms are good for decorative concrete floors?
Wherever there's a viable surface, we can create a beautiful decorative concrete floor! We've worked on rooms ranging from kitchens to basements and everything in between. We also work in a variety of locations.
Why choose resurfacing?
With resurfacing, we can place a coating on top of your existing concrete surface (even if it's damaged). That means you don't have to tear anything out or start from scratch, saving you the mess and the headache. Your new surface will look brand new!
Why choose concrete or epoxy over other flooring materials
The benefits of concrete or epoxy rather than other commonly used flooring materials are numerous. For example, you won't have the hard-to-clean grout lines that you get with tile. Concrete and epoxy floors are also easy to keep clean, so they don't attract and house dust and other allergens like carpet tends to do. Unlike wood, concrete and epoxy floors can't get damaged from termites. And since it's non-porous, it's easy to wipe up spills—preventing warping and other types of damage caused by water and moisture.
What are some design options for interior concrete floors?
The design options are endless. There are so many colors, textures, and patterns to choose from, so SUNDEK of Austin can create a design for your floor that fits the style of your home or business perfectly. We specialize in stained concrete and also stamped concrete. Take a look at pictures online and in magazines to see what you like. When we meet with you, we can discuss how to make your dream design a reality.
Contact us
Contact us to get started on your concrete floor!
Call us: (512) 928-8000
Email us: [email protected]
Or fill out the form on this page
We work in all the major cities in the area including Austin, Bastrop, Cedar Park, Dripping Springs, Georgetown, Lakeway, Marble Falls, Pflugerville, Round Rock, San Marcos, Spicewood, and the surrounding areas.